Important Information for Debit Card Holders:
Lost/Stolen Debit Cards - During office hours - (865) 429-2273 Mon-Thurs. (8am-5pm) and Friday (8am-6pm)
Lost/Stolen Debit Cards (after hours) (888) 297-3416
Card Activation/PIN change for Debit Cards  (800) 631-3197
Card Activation /PIN change for Debit Cards if customer is calling from outside United States (206) 682-2462

TSB FraudWatch (877) 662-8076
The Business Visa Debit Card works just like your personal debit card. Use it to buy things your business needs, pay for travel expenses or treat a promising business lead to lunch. Your business and personal expenses clearly separated. Purchases on-line or in-person come directly from your business checking account. Visit
Your Guide to Card Benefit
for complete details.
Visa's Zero Liability Policy                                                   
Auto Rental Collision Damage Waiver
Purchase Security & Extended Protection Benefit
Travel & Emergency Assistance Services

Tennessee State Bank's Debit Card has the Visa® logo on it and is accepted any place that honors a Visa® card. The TSB Debit Card can now be upgraded to The Smoky Mountains Charity Card, The Patriot Charity Card or a School Spirit Card. Customers can order a TSB Debit Card or Charity Specialty Card at any of our branch locations or by calling Card Services at (865) 429-2273.  Tennessee State Bank offers ATM services at each of our branches and other offsite locations.  TSB customers may use any Tennessee State Bank ATM machine with no fees.   
---
Apple Pay®

Apple Pay® is safe, convenient and easy to use.  The TSB Debit Cards and TSB Credit Cards can both be added to your iPhone, iPad or Apple Watch to pay for purchases at any participating merchants.  Your card number is never stored on your device and card details are never shared when you use Apple Pay making it a safer and more private way to pay , and so convenient!
Have you taken your Tennessee State Bank Visa® card digital yet? Adding it to Samsung Pay is as easy as snapping a picture of your card. TSB Debit Cards and Credit Cards can both be added to your Galaxy S6, Galaxy S6 edge, Galaxy S6 edge+, Galaxy S6 active, Galaxy Note5 and other select Samsung Products.
Android Pay™
Android Pay™ is a contactless payment technology that makes paying as easy as pulling out your Android phone. Users' card information is never shared with stores because Android Pay doesn't send their actual credit or debit card number with their payment. TSB Visa® Debit Cards and Credit Cards can both be added to your Android phone to make paying for purchases at participating merchants safer and easier!
---
Visa® Purchase Alerts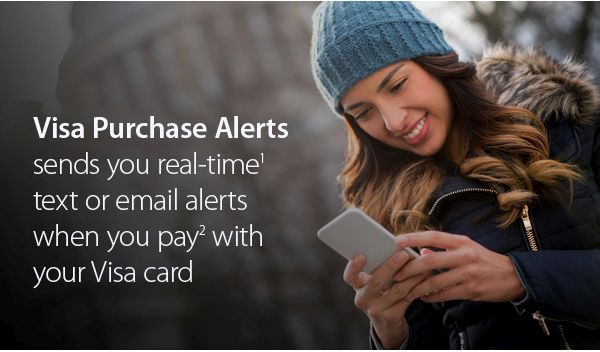 Sign up today(Opens in a new Window) for security and peace of mind with Visa Purchase Alerts!  Visa will send you real-time text or e-mail alerts when you pay with your card.
1 Actual time to receive a transaction alert is dependent on wireless service and coverage within area.
2
A qualified transaction is any transaction routed through Visa.
Visa Purchase Alerts may not be available in all areas.  Account activity qualifying for Visa Purchase Alerts may vary by issuer.  Third party data & messaging rates may apply.
If you are traveling out of the area, please contact our office and inform us of the dates you will be traveling. This will prevent the appearance of fraud occurring on your account and we will notify our Fraudwatch Plus system. We currently do have a block on all non-US transactions. If you travel outside of the US, we will need to lift the Non-US flag to allow your transactions to be approved.
In order to prevent debit card fraud, it is sometimes necessary to place blocks on certain merchant types or transactions in certain states or areas. If you are out of state and are declined during a transaction, ask the merchant to run your card as a debit with your PIN. If you are still experiencing problems, call our office at (865) 429-2273.
Debit Card Limits
We have pre-set daily limits on our debit cards. They are as follows:
ATM Transactions- $500.00
POS Transactions- $2500.00
If you need to make a transaction that is over these limits, please call us at (865) 429-2273 during business hours and we can temporarily increase it to allow the transaction to complete.
Changing the PIN on your Debit Card 
You can now use a phone number to change the pin on your debit card or to activate your new debit card.  The numbers to call are as follows: 
Card Activation/PIN change for Debit Cards  (800) 631-3197
Card Activation /PIN change for Debit Cards if customer is calling from outside United States (206) 682-2462
TSB FraudWatch monitors transactions on your debit card for potential fraud. TSB FraudWatch looks at many variables when determining if a transaction is suspicious and potentially fraudulent. If we identify a transaction or transactions that may be fraud, we may verify the transaction by the following alerts:
If a debit card transaction triggers in the system's analytics and fraud is suspected, you will receive notifications as follows:  
TSB FraudWatch App.

Download our app from the

 

Google Play

(Opens in a new Window)

 

(Android phones) or

Apple Store

(iPhones).  By using the TSB FraudWatch app, you can check for pending notifications, check your notifications history or change your card status from active to block in the event that you have lost your card or definitely suspect fraud.  If you use the TSB FraudWatch App, you will not receive the text messages or voice delivery notifications.  However, emails will always be sent. 
SMS (text message) delivery. 

"TSB FraudWatch Alerts" (short code 47334) will report the payee and payment amount to you and ask if you authorized the transaction.  The reply is YES or NO.  You may also reply HELP for help or call 877-662-8076.  You may also opt out of future texts by replying STOP. 
Voice Delivery.

You will receive a voice response message with details regarding the suspected fraud transaction.  You will be asked to press 3 if the transaction is unauthorized or to press 7 if the transaction is authorized.  This delivery method will only be used in the event that you do not use the app, we do not have a mobile phone number on file or if you opt-out of receiving SMS text message alerts. 
Email delivery.

A "TSB FraudWatch Alert" will be sent from Tennessee State Bank with details about the suspicious transaction.  The customer will be asked to call 877-662-8076 to verify the transaction.  Emails will always be sent. 



The TSB FraudWatch phone number is (877) 662-8076 and available 24 hours a day, 7 days a week.  If you have any questions about this new service, please call Card Services at (865) 429-2273.  Please click
here

(Opens in a new Window)
for TSB FraudWatch Frequently Asked Questions.  
Verified by Visa® for Debit Cardholders

Verified by Visa adds an extra layer of security to make online purchases more secure. If your online transaction requires further verification, a box will appear with the Verified by Visa® logo. It will require you to enter the last four digits of your SSN, expiration date and billing address zip code. Once the information is verified, the transaction will proceed through the checkout process. If you have any questions or problems regarding Verified by Visa® for your debit card, please call (865) 429-2273.
Lost/Stolen Debit Cards (after hours): (888) 297-3416