Boys & Girls Club Donation 2021

Tennessee State Bank proudly supports the Boys & Girls Club of the Smoky Mountains. Our annual donation of $5,000 helps support the many programs that educate and encourage the young people in our community to become responsible and caring adults.
Mark Ross- "The Boys & Girls Club of the Smoky Mountains is extremely grateful for the annual investment made by Tennessee State Bank to provide over 1200 Sevier County children the opportunity to have a Great Future".
TSB has been a Keystone Society Sponsor since 2012. If you wish to contribute towards the future of our children, visit their website at https://www.bgcsmoky.com to learn more. Tennessee State Bank is Member FDIC and Equal Housing Lender.
(Pictured L to R) Todd Proffitt, CEO & President of Tennessee State Bank and Mark Ross, Chief Professional Officer of the Boys and Girls Club of the Smoky Mountains. 
---
Friends of the Smokies
Tennessee State Bank supports the Friends of the Smokies to "Preserve.  Protect.  Provide." for the mountains we call home.  Our customers that elect to carry a beautiful Visa® debit or credit card that is stunningly portrayed by artist Robert A. Tino  pay an annual contribution of $10 to show support for the Friends of the Smokies.  100% of the contributions collected are given to this organization dedicated to the preservation and protection of the Great Smoky Mountains.  
The Friends of the Smokies is a nonprofit organization that was established in 1993.  Since its inception, the Friends of the Smokies has been dedicated to funding projects in the Great Smoky Mountains National Park, raising awareness and providing volunteers for needed projects. 
Tennessee State Bank presented Friends of the Smokies with a contribution of $17,000 for 2020 during the Pigeon Forge Chamber meeting. TSB has given a grand total of $88,560 since inception in fall of 2014. We would like to thank all of our customers who make it possible by carrying a Smoky Mountains Visa® Charity Card.
---
The Smoky Mountain Service Dogs 
Tennessee State Bank helps local veterans by supporting the Smoky Mountain Service Dogs. Our customers may elect to carry a
Patriot Visa® Debit or Credit Card
for an annual contribution of $10. The bank donates all proceeds to the Smoky Mountain Service Dogs, an organization that trains mobility assistance service dogs to aid disabled veterans who have bravely fought for our country.

These unique cards feature stunning artwork by local artist Robert A. Tino and are available in both credit and debit form. Operated solely off of donations, the efforts of Smoky Mountains Service Dogs help combat-wounded veterans achieve a higher level of societal and community involvement upon return home.
"We believe that it takes community involvement to insure the success of Smoky Mountain Service Dogs and our clients. The contributions of individuals and groups within the community will be welcome, appreciated, and honored," said Mike Kitchens, Chairman and Spokesperson for the organization. Not only do your contributions help veterans but you can also show your patriotism every time you use your Visa® credit or debit card. Visit the
Smoky Mountain Service Dogs website
to see what this great organization is doing to help our heroic veterans.
Tennessee State Bank presented a check for $9,000 to The Smoky Mountain Service Dogs in December 2020. 
TSB customers have given a total of $40,925 since starting in 2016.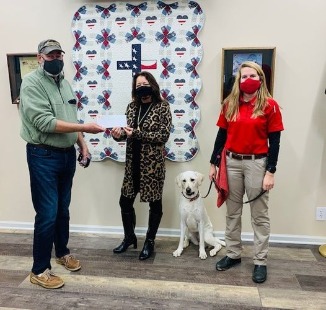 ---
School Spirit Cards 
2021 Jamboree Night - Check presentation to schools for School Spirit Debit Cards 


 Tennessee State Bank Debit Card customers may now choose to show their spirit with the School Spirit Visa® Debit Cards. For an annual contribution of $10, you can show everyone who you're rooting for by electing to carry one of these vibrant cards. One hundred percent of the contributions collected will benefit the school that you choose to proudly support.
If you are a current debit card customer you may upgrade your card and join Tennessee State Bank in helping the high schools in our community.  Please visit any branch to open a new account or upgrade your existing debit card to a School Spirit Visa® Card.
For more information on any of the charity cards above, click
here.
---
Tennessee State Bank proudly sponsors the EverFi financial literacy program.  We are proud to be committed to advancing financial education in Sevier and Cocke County schools by partnering with EverFi. Fourth graders are learning about Responsible Money Choices, Credit and Borrowing, Insurance and Safety, Savings and Investing, Income and Careers and Making Plans with Money. Seniors in Cocke County are taught about the same subjects, at a higher level, plus Payment types, Credit Scores, Financing Higher Education, Investing and Renting vs Owning. We are preparing students for their financial future.
---
County Websites