Special Programs for Veterans offered by Tennessee State Bank 
Tennessee State Bank is an Equal Housing Lender. 
Benefits Plus® featuring Identity Theft Program with Restoration Rescue®: No Monthly Membership Fee to Veterans (please present DD Form 214 to receive this offer.)
Home Loans: TSB In-house Mortgages with special financing.
---
Servicemembers Civil Relief Act Notice
Regular members of the U.S. Armed Forces (Army, Navy, Air Force, Marine Corp and Coast Guard), Reserve and National Guard personnel, members of the commissioned corps of the Public Health Service and National Oceanic and Atmospheric Administration, and certain U.S. citizens serving with armed forces of a nation with which the U.S. is allied in the prosecution of a war or military action, there are some benefits afforded to you by the Servicemembers Civil Relief Act (SCRA).
Some of these benefits also extend to servicemember's spouse, dependents, and other persons subject to the obligations of servicemembers. Please forward your request together with a copy of the servicemember's military orders or any other appropriate indicator of military service, including a certified letter from a commanding officer to: Tennessee State Bank, PO Box 1260, Pigeon Forge, TN 37868, Attn: Credit Department.
---
Smoky Mountain Service Dogs 
What better way to honor our local Veterans than by carrying these special cards for an annual contribution of only $10. 100% of your contribution is given to Smoky Mountain Service Dogs; a non-profit organization that trains mobility assistance dogs to aid disabled Veterans who have bravely fought for our country. Visit www.smokymountainservicedogs.org to learn more about this wonderful charity. Artwork by Robert Tino, Artist and TSB Director. Get yours today at any branch location.
Anthem:  Offered exclusively to Tennessee State Bank Visa® Debit Card Customers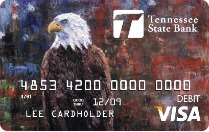 Goldie Locks:  Offered Exclusively to Tennessee State Bank Visa® Credit Card Customers